Ford F-150
Find 2015 Ford F-150 Pickup Trucks in Prince Rupert, Kitimat & Terrace British Columbia
---
If you want a Ford truck for life in North Western BC, then you want something that will be up to the job no matter the conditions. You want the 2015 Ford F-150 pickup. The new F-150 takes what you think of 'tough' and runs right over it with a line of trucks that have proven themselves as the best. It starts with a selection of engines that offer best-in-class horsepower, torque, and fuel economy. The innovative Ford EcoBoost engine provides the perfect combination of power and efficiency, and provides a surprising towing capacity making F-150s the perfect hauling truck. There simply isn't another truck on the market that matches it.


Totem Ford truck dealerships provide the best selection of brand new and used Ford F-150 trucks that you'll find in Prince Rupert, Kitimiat & Terrace British Columbia. We are the choice Ford dealership for new and used Ford trucks in North Western BC, also serving Haida Gwaii, Stewart BC, and even Canadian communities near Alaska.
---
---
Ford Truck parts, wheels & rims
---
Already have a Ford pickup? We'll help you keep it running and looking its best with a great selection of Ford truck parts. All of our automotive parts come from the original equipment manufacturer (OEM) which means a guaranteed fit and finish for your vehicle. We also have custom F-150 accessories like aftermarket Ford truck rims and wheels. Order your parts online right now!
---

2015 Ford F-150 Highlights: Interior
The F-150 provides a choice of performing engines including a top-of-the line 5.2L V8 that provides a best-in-class 411 horsepower and best-in-class 434 lb.-ft. of torque. Overall there are four award-winning choices available:
3.7L Ti-VCT 4-Valve V6 FFV
This engine provides more torque than any other standard V6. It is equipped with a 6-speed automatic transmission.
Horsepower: 365 hp @ 5,000 rpm
Torque: 420 lb.-ft. torque @ 2,500 rpm
Fuel economy: 8.7L/100km highway, 12.6 L/100km city.
5.0L Ti-VCT 4-Valve V8 FFV
This engine stands out as the most fuel efficient of any comparable V8, as well as delivering the most horsepower, towing and payload capacities when compared to the competition.
Horsepower: 360 hp @ 5,500 rpm
Torque: 380 lb.-ft. torque @ 4,250 rpm
Fuel Economy: 9.7L/100km highway, 14.1 L/100km city
3.5L EcoBoost® Ti-VCT
This engine provides class-leading towing and payload capacities combined with outstanding fuel economy. Twin turbochargers and direct injection deliver balanced performance.
Horsepower: 365 hp @ 5,000 rpm
Torque: 420 lb.-ft. torque @ 2,500 rpm
Fuel Economy: 9.0L/100km highway, 12.9L/100km city
6.2L 2-Valve V8
The most powerful engine available for the F-150, the 6.2L V8 delivers more horsepower and torque than any engine in its class. It is shared with the F-series Super Duty model.
Horsepower: 411 hp @ 5,500 rpm
Torque: 434 lb.-ft. torque @ 4,500 rpm
Fuel Economy: 11.0L/100km highway, 16.5L/100km City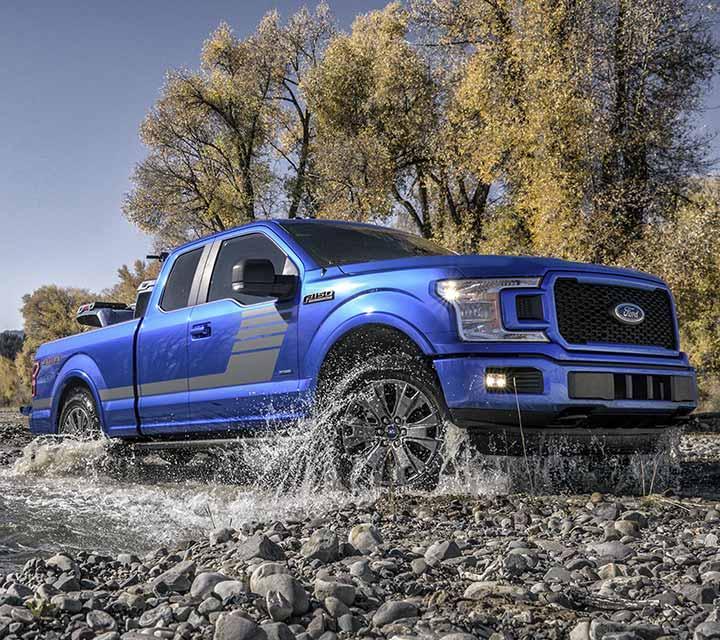 Ford F-150 Design and Capability
The F-150 provides a best-in-class maximum towing capacity of 11,300 lbs (5,125 kg) on every cab type - something that no other truck can boast. And with technologies like standard trailer way control and integrated trailer brake controller, you also have a level of confidence you won't find in other full-size pickups. The F-150 also provides a best-in-class payload capacity of 3,120 lb. (1,415 kg) and a best-in-class cargo box volume of up to 2,301L to let you haul more materials than any other truck in its class.

Ford F-150 Interior and Technology
Newly available in 2015, voice active SYNC with MyFord is available on XLT models and standard on FX2 and FX4. Once paired with your phone, SYNC will allow voice calling of your contacts, and lets you place music from your phone or MP3 device. The system features an 8" LCD touch screen on the center stack and gives you the option to control it with the touch screen or through voice commands. The legendary King Ranch and other SuperCrew models feature an interior like no other with premium materials, 60/40 split rear seats and excellent cargo space.
---